New Delhi: A day after going to jail Delhi Minister Satyendar Jain submitted before the trial court that he was not getting privileges like proper food and medical check-up in Tihar Jail, a new cctv footage He is shown getting proper food in the jail.
On Tuesday, senior advocate Rahul Mehra, counsel for Satyendar Jain, had denied the ED's allegations of privileged treatment in Tihar Jail.
Asked what privilege he was talking about, Jain said he had lost 28 kg in jail. "Is this what a privileged person gets in jail? I am not even getting proper food. What privilege are they talking about? If a prisoner is pressing his hand or foot then it is not a violation of jail rules "
However, a fresh CCTV footage on Wednesday showed Jain having proper food in the jail.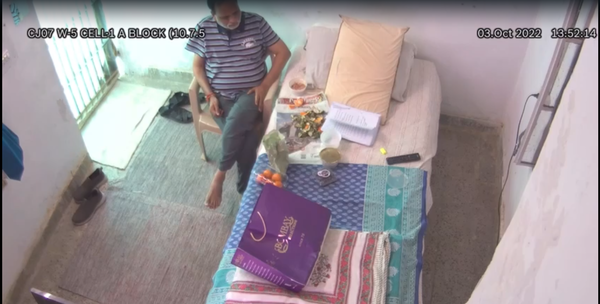 Videograb.
ANI has given this information quoting Tihar Jail sources Satyendra Jain During his stay in jail, his weight increased by 8 kg, while his lawyer claimed that he had lost 28 kg.
Latest CCTV footage obtained from Tihar Jail sources shows Delhi minister Satyendar Jain getting proper food in Jammu… https://t.co/rmFayc15H7

— TOI Delhi (@TOIDelhi) 1669176749000
Last week, Satyendar Jain moved the special court with an application seeking contempt action against the Enforcement Directorate. Jain's legal team has alleged that the ED leaked the CCTV video despite an affidavit given in the court.