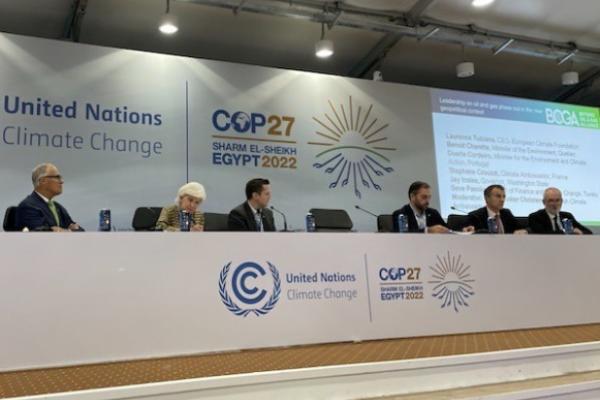 World leaders have gathered in Egypt for the 27th session of the Conference of the Parties (COP27) to discuss the future of the planet.
On Saturday, countries struggled to reach an agreement, with some threatening to walk out if negotiators failed to make progress fighting climate change.
EU officials from the 27 countries said they were concerned about the lack of progress overnight and also the possibility of withdrawing from parts of the COP26 climate accord in Glasgow, Scotland last year.
EU climate policy chief Frans Timmermans said, "All [EU] Minister … If we don't have the results the world has been waiting for – namely, that we do something about this climate crisis, then we are ready to walk away.
Timmermans said the EU is "concerned about some of the things we have seen and heard" in recent hours, which he noted jeopardize the global goal of limiting warming to 1.5 degrees Celsius.
Read also: Union Pacific details efforts to address climate change
"The text is not moving us forward on mitigation ambition from where we were in Glasgow," David Wasko, director of the World Resources Institute's international climate initiatives, said according to Bloomberg.
"But where we have seen a change here and where we are going forward from Glasgow is on loss and damage, and I don't think that should get lost in the mix. So this is an important step forward," he said.
According to the report, the UK said the current text of the agreement threatens to hold back climate action from Glasgow, indicating that progress on mitigation would be necessary before the accord could be signed.
Meanwhile, Dutch climate minister rob jetton Has said that many countries were unhappy with the lack of progress on commitments to cut emissions.
"It's simply not good enough. We're still waiting for some texts, but it looks like we're holding back on Glasgow, which would be unacceptable," Jeton said.
Photo: Governor Jay Inslee on Flickr.