New Delhi: The administration of Delhi's iconic Jama Majeed has decided to ban seclusion and mass entry for girls inside its premises.
In a latest decree, the office of the mosque has also banned the shooting of videos with music inside the mosque premises.
The diktat has drawn sharp reactions from those who termed the decision as regressive.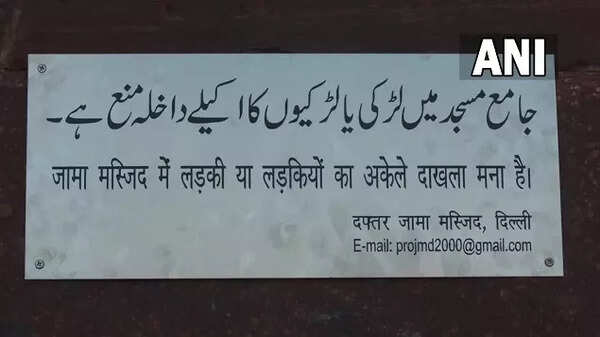 DCW President Swati Maliwal also condemned the decision.
"The decision to ban entry of women inside Jama Masjid is wrong. I am issuing notice to the Imam of the mosque. No one has the right to ban entry of women," she tweeted.
The decision to stop the entry of women in Jama Masjid is absolutely wrong. A man has the maximum right to worship, equally a woman… https://t.co/HjJzAKxFFH

– Swati Maliwal (@SwatiJaiHind) 1669273894000
However, the mosque's PRO Sabiullah Khan justified the decision, saying that "inappropriate acts" are observed at the religious place when women come alone, and the ban was imposed to prevent such practices.
"The entry of women in the mosque is not banned. Inappropriate acts are observed when women come alone, videos are shot in the premises. The ban is to prevent such practices. Families and married couples in the mosque No restrictions have been imposed on visiting but this meeting place is unsuitable for religious places."